Options Menu
The Options Menu allows you to add the video
to your 'Favourites Folder', 'Recommend this
Programme' by email to a friend, and to 'Share
this Programme'.
Teaching Staff only will see and be able to use
the buttons marked 'Download Video',
'Download metadata' or 'Get Embedding Code'
The Menu Bar
Add to Favourites
This will add the programme to your Favourites Folder.  Staff Users can then add Keywords and upload Related Materials.
To remove a video from your Favourites click on the 'Remove from Favourites' in the Options menu.
(To view all your Favourites or add them to folders, go to the 'My eTV' section)
Recommend this Programme
Recommend a programme enables you to
email a contact about a video.
You can add a message to send with the recommendation.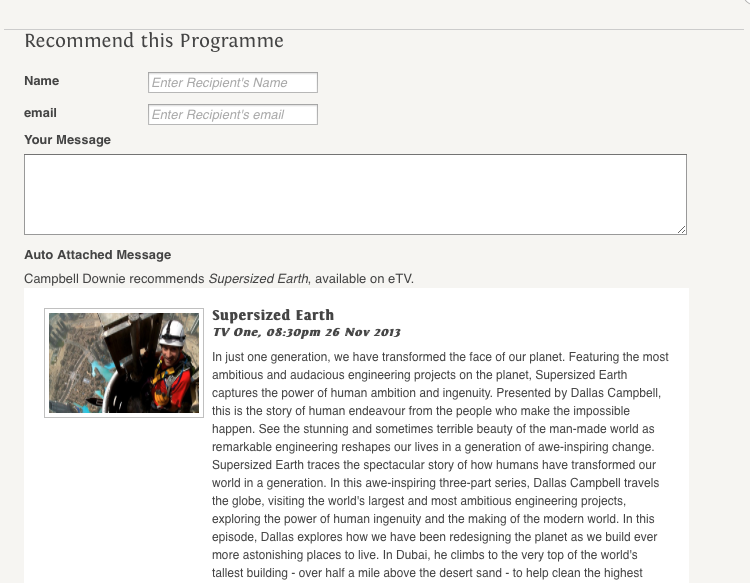 Share a Programme
Enables you contact other eTV users about the video via numerous social networking applications, click on this and a selection will appear. You can then place a link to the programme information your pages there. Please note this WILL NOT place the actual video onto any sharing website. You do not have a licence to use any piece of content in the public domain.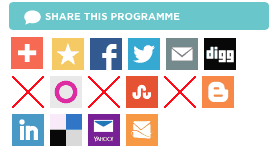 Download Features
 Note: Downloads are only available to Staff users. Not available to Students.
To download the Programme video file, click 'Download Video'.
Licensing information regarding distribution of the Programme video file will appear on the next screen and you must agree to the terms by ticking the checkbox. Finally, click the 'Download' button, which appears once the 'I Agree' checkbox is ticked.
 If the download does not start, click on the link that will appear below.
Downloading Metadata
To download all information about the video (metadata) select the option on the menu and an .xls file will download from the site.
Embedding Code
Note: Embedding Codes are only available to Staff users. Not available to Students.
 Embedding code provides a script that will allow a player screen of the video to display on other webpages, emails and learning tools such as Blackboard and Moodle. User Logins are not required.

 Optional buttons download the code as:
a). A .txt file (to copy and paste into Learning Management Systems), or
b). An .htm file (which holds the player on a simple webpage).
You may simply copy the contents displayed & paste directly.