Overview
There are 5 main sections on eTV; On Demand, Live Channels, My eTV & Reports and Search. 
On Demand
On Demand has over 20000 TV programmes recorded from over 40 National, Sky & International Channels, a Curriculum collection of over 6500 titles and growing of material specific to in classroom teaching as well as from an extensive video Library. Staff can also request programmes to be recorded and added to the TV Recordings section.
TV Recordings
Programmes recorded from Free to Air, Sky and International Channels. Click the Channel icon to see each Channel's selection.
Curriculum Collections
Over 6000 titles and growing drawn from some of the best educational video libraries around the world including MIT, National Theatre, Berkley University and many others. This content underpins the contextual content available in the TV recordings section and further scaffolds your students learning with strong, quality content.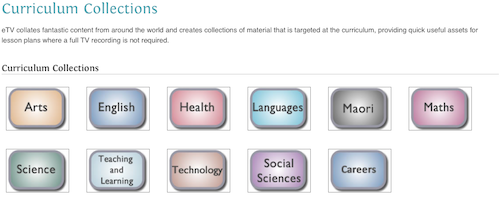 Library
This is where organizations upload videos available for users to access. Your own institution may have a section accessible by staff and students only.  All Catalogues are identified by Logo.